Sometime over the summer, my 17-year-old daughter came upon the old TV series, "
That Girl
", starring
Marlo Thomas
, as part of our Amazon Prime membership. We watched a few episodes and then I asked her if she wanted to watch something else, and she said, "I really kind of like watching this mom!"
So "That Girl" became our summer binge show- the show we watched every night together during the summer, just me and my two daughters snuggled together on the couch. I think this show appealed to my older teen because it was about a young woman who was trying to support herself for the first time, which is something that my daughter is probably thinking about a lot right now as she enters her senior year of high school. My 11-year-old liked it because Ann Marie, the protagonist of the story, worked hard, was very energetic and always looked fantastic while keeping her apartment organized and neat as a pin!
Of course I was watching because I remembered the show. I wasn't even 10 when That Girl premiered in 1966. I remember being fascinated by the young woman bravely taking on new and interesting jobs and trying to survive as an actress. I also remember some of the controversy surrounding Marlo Thomas's decision to
go braless in the last two seasons
, which thoroughly annoyed my grandmother back then.
Interestingly, as we started to get deeper into the episodes, my daughters and I developed a different feeling towards Ann Marie and started to become more interested in her T.V. boyfriend, Don Hollinger, portrayed by the
late Ted Bessell.
While Ann Marie was supposed to be the 60s version of
Lucy Ricardo
, Don was anything but another
version of Ricky.
In fact, Don was the closest thing we could remember of a character portraying all of the standards of love found in 1 Corinthians.
Donald was patient- to a fault. Even when Ann's schemes and situations started to annoy us while we were watching them, Donald remained the calm voice of reason, patiently trying to solve the dilemma.
He was always kind even if Ann wasn't particularly kind to him.
He did not boast - although he took his profession seriously and was very proficient at it.
He was not proud and in fact was willing to do a lot of self-deprecating things for Ann's sake.
He looked out for Ann's honor, even though her father was always sure that Donald was somehow debasing his daughter.
He was never easily angered even though we three would be screaming at the t.v. that he should just dump her and find another girlfriend!
And he protected her, many times, including two times in the first season when he put his life at risk to protect her.
By the end of season one, my daughters were smitten with Ann's boyfriend. I started thinking that if I ever wanted to find an example for my girls of what to look for in a potential husband using a cultural example (even if that example is over 50 years old) I couldn't do much better than Don Hollinger.
As the girls and I continued to watch the series at night, I started searching the internet for some interviews that Marlo Thomas has done over the years about That Girl. It was clear that there was an agenda, which was to show young women that it was okay to be on your own, to be independent, and that you didn't need a man around.
Yet in many, many episodes, Don is the one Ann calls when she is afraid, or in danger, or lonely. He is the one constant that makes her feel safe and secure, and as the series progresses in to
Season 3
and
Season 4
my daughters and I were convinced that Ann would be lucky to marry him. Anyone would be lucky to have such a devoted mate.
The girls and I endured for all five seasons. I even bought
Season 4
and
Season 5
because they weren't available for streaming prime yet. I looked ahead and knew how it would all end, but I didn't tell my girls. They were still swooning from the brief longing glimpse Ann and Don shared from adjoining hotel rooms, the good morning cuddle from their night together in a cabin in the woods after surviving a scary plane crash, romantic yet chaste slow dancing all night after her class reunion, and Donald's willingness to go out of state to marry Ann because her father insisted it was the only honorable thing to do based on circumstantial evidence. Of course this all seems so innocent (and unlikely) now, but my daughters came to respect Don's honor.
In the first episode of season 5
Ann and Don get engaged.
A few episodes later Don gets cold feet and my girls were totally on board with him just ending the relationship. But an honorable man like Donald Hollinger would never do such a thing; the engagement continued.
The two never do make it down the aisle though. Ms. Thomas let her political and sociological views interfere with good old fashioned story telling. Instead of a beautiful wedding uniting these two in matrimony, a culmination of what anyone watching this relationship for five years would have wanted for them, Ms. Thomas's Ann Marie drags her fiance to a woman's lib meeting. That episode was anticlimactic, dull and boring. She said that she got lots of letters from women thanking her for not ending with a wedding. I'll bet there were just as many who didn't write who were disappointed that they never got to see the big event that was teased for the prior seasons. Certainly 40 years later, my daughters were disappointed about the way it ended.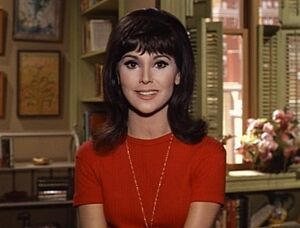 Marlo Thomas says that just prior to Ted Bessell's death, there was talk of a That Girl reunion. The talk was that Ann would be working in community theater somewhere, probably Brewster, NY, and Don would have made it big as a divorced writer still in New York City. I'm glad that was never made, because it would have made the years from 1966 to 1971 on that show seem like such a waste.
But on the positive side, I think my daughters learned a little bit about what television was like back when their mother was a girl, and an idea about the fashions and the way people were. But most importantly, they saw an example of a gentleman and an ideal to keep in mind and measure against when choosing a date.
Custom Search