This is one of my favorite advent feasts!! Maybe more so than in the past because Juan Diego, the Indian man who spoke with the Blessed Virgin was a middle aged person, proving that God can use his faithful regardless of their age or station in life.
Juan Diego
(b 1474) was an
Aztec Indian
originally named Cuahtlatoatzin, which means, "The one who speaks like an eagle." He married a girl named Malintzin who was later renamed Maria Lucia after her Baptism. Along with their uncle, Juan Bernardino, they were all baptized near Lake Texoco, most likely by
Father Toribio
in 1525.
It is said that even before the apparitions, Juan Diego was a pious and holy man, as was his wife. Although Maria Lucia died two years before the apparitions, the story goes
that she wove the tilma that
her husband wore during his visits with the Blessed Mother. So in a way, Maria Lucia was part of the miracle as well.
San Juan Diego
Juan Diego was very devout and attended Mass and catechism class at the Church in Tlatelolco.
On December 9, 1531, Juan Diego started for church. He had to pass by a hill named Tepeyac to get there. This was an ancient site for goddess worship and human sacrifice. On this particular day, as he passed by the hill, he heard music and then suddenly a beautiful young woman appeared and called him by name. She said:
"Dear little son, I love you. I want you to know who I am.
I am the Virgin Mary, Mother of the one true God, of Him who gives life.
He is Lord and Creator of heaven and of earth.
I desire that there be built a temple at this place where I want to manifest Him, make him known,
give Him to all people through my love, my compassion, my help, and my protection.
I truly am your merciful Mother, your Mother and the Mother of all who dwell in this land, and of all mankind,
of all those who love me, of those who cry to me, and of those who seek and place their trust in me.
Here I shall listen to their weeping and their sorrows.
I shall take them all to my heart, and I shall cure their many sufferings, afflictions, and sorrows.
So run now to Tenochtitlan and tell the Lord Bishop all that you have seen and heard."
Juan Diego went to the palace of the Franciscan
Bishop Juan de Zumárraga,
and long story short- after two more apparitions and at least two miracles, the Bishop Believed Juan Diego and the church was built!
Ari Helminen via Flickr, licensed cc
Please see
Our Lady of Guadalupe- Mother of the Americas for an excellent telling of the history and story of this feast day!
Quilt
hanging in St. Sebastian's Church Akron, OH
Many years ago, my oldest child, Calvin, painted a tilma for us. I think he was around 12 or 13 at the time. It is his own simple design on material I purchased at a fabric store. That tilma served two purposes - we pulled it out to decorate our home on the Feasts of Juan Diego and Our Lady of Guadalupe.
and we also used it for all saints day when my youngest boy was Juan Diego for All Saints Day.
More good reading about Juan Diego
in Diigo links.
Today we will celebrate by having Mexican Taco night for dinner. I have an Our Lady of Guadalupe Candle in the center of our table to day as well as these cute salt and pepper shakers that I found at an antique store. They just reminded me of Juan Diego and Mary!
Those not interested in the usual taco and burritos for dinner, might like to try a Mexican Casserole like this one!
A spicy (but not too)Mexican casserole for the feast day:Ingredients
*
1 (10 3/4 ounce) can Campbell's Cream of Chicken Soup* 1 1/3 cups water* 3/4 cup uncooked long-grain white rice* 2 cups frozen peas* 4 boneless skinless chicken breast halves* 1/2 cup shredded cheddar cheese* One package of taco seasoning.* Bag of fritos or Doritos- crushed.
Directions
1.1Stir the soup, water, rice, peas and taco seasoning in a 12" x 8" shallow baking dish.2.2Top with chicken. Season chicken as desired. Cover.3.3Bake at 375 degrees for 45 minute or until done. Top with cheese and crushed Fritos or Dorritos.
Since I have been grain free now two years, I think I'll try this
one for myself!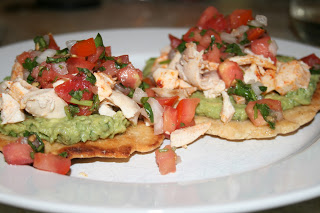 Astronomy buffs will find this fascinating:
On December 22, 1981, at the Observatory Laplace Mexico City, Father Mario Rojas and Dr. Juan Hernández Illescas, a medical doctor and amateur astronomer, performed an astronomical study of the Image and analyzed the stellar arrangement that appear in the Mantle of Our Lady. They surprisingly discovered that the stars stunningly and accurately map out the various constellations of the Mexican sky. Even more remarkable is the "star map" on the mantle is in the reverse (the cardinal axis rotated 90 degrees counterclockwise): providing a view of the constellations from beyond them, as would be seen looking through them towards the earth. The constellations are consistent with what astronomers believe was in the sky above Mexico City on the day the apparition occurred - in the winter-morning solstice of December 12, 1531, Saturday, at 10:26AM. From the Infallible Catholic Blog
And History buffs will enjoy this!
Excellent retelling of the story with other historical facts, a map and more.
Follow Elena LaVictoire's board Our Lady of Guadalupe on Pinterest.