Get link

Facebook

Twitter

Pinterest

Google+

Email

Other Apps
Outside my window...
I am thinking...
about the
Catholic

Women

's Blogging Network
Conference I went to last week. I met some great ladies, made some new friends, and discovered some wonderful blogs!This was the first time I have ever gone to a blog conference of any kind, and it was a very good experience! You can find a great re-cap of events over on my new friend Melody's blog,
Blossoming Joy.
(Photo courtesy of Jamie Orm)
Check these blogs out!
I am thankful...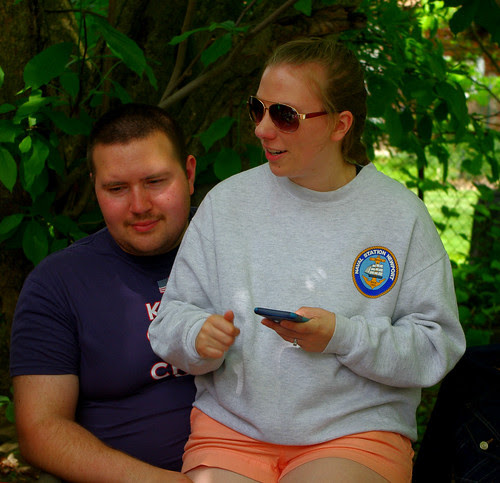 that this big guy came up for Memorial Day weekend. I got to spend at least a day with him before he had to go back.
When he was getting ready to go, I could see that his fiance was having a very hard time watching him go and I felt so sad for her. But her mom and dad were there to comfort her and Rosie gave her a big hug. As Calvin was driving away his eyes lingered on her, but just before driving off he looked directly at me. I'm the #2
woman
in his life now and that's okay. I'm grateful to be at least that.
Unexpectedly, the uneasiness in my heart isn't because my son isn't with me, but because these two aren't together - yet. I'm really looking forward to that wedding day!
I have...
Updated
my links page for pregnancy loss at the top of this blog.
Please feel free to share these resources with moms who might need them.
In the kitchen...
Cheesy potatoes with ham chunks and a side salad.
I am wearing...
Black gaucho pants, black and gray print top from K-Mart, and white knit top from e-Bay.
I am reading...
I am going...
to walk or work out every day but Thursday with Pfilates.
From the Learning Rooms...
Noah working on:
I am hoping to ...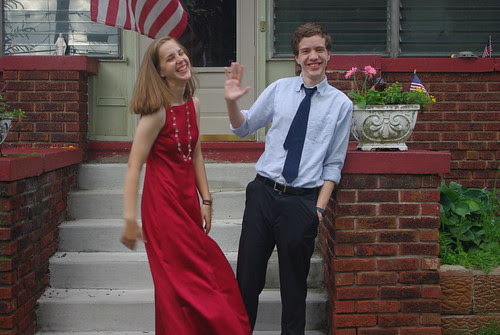 Izzy and Noah goofing off before the dance!
Oh, and today's my birthday. Not a milestone birthday, but another year older anyway, and I'm grateful for that!
Get link

Facebook

Twitter

Pinterest

Google+

Email

Other Apps