My latest article up at
Catholicmom.com.
Some really nice
Catholic Saint ornaments for this upcoming Advent season!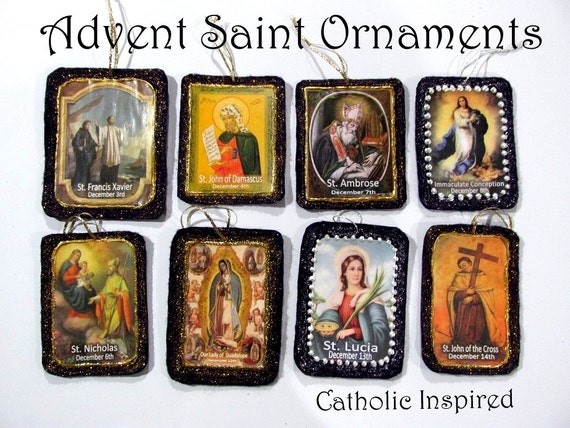 Also,
Catholic Deals
has an
Etsy Shopping Guide for Christmas!
I had some lab work done a few weeks ago and was able to eek by with normal fasting blood sugar by about 8 points! Yeah me! But
this article
would have been helpful before hand and to keep in mind for keeping out of the pre-diabetic range! Except for the "whole grains" I agree with everything else on the list.
Another wedding vendor
has gone out of business rather than shoot a same-sex wedding.
Urloved Photography, based in the Bay Area of Northern California, have announced they will no longer provide wedding photography after refusing service to a same-sex couple.

According to Jezebel's Mark Shrayber, a gay couple recently sought to hire Urloved owners Nang and Chris Mai, but the Mais responded, "Photographing a gay wedding is not the best match for us." They offered the couple a referral to another photographer, wishing them "the very best!"
Because, you know, it's not enough that SSM is legal, but now everyone has to accept, condone and participate! I still think
my ideas for Christian wedding vendors on how to get around this nonsense would work.
The HSLDA reports
about a couple who were tasered and arrested in their own home - because CPS thought their house was messy? Lord, if that's a crime I could be in some serious trouble.
A child protective services (CPS) caseworker had been inside the home several days earlier to investigate a report of a messy house and had returned for a follow-up visit. When Jason and Laura declined to allow her inside she summoned Glidden and White.
When Deputy Glidden arrived at the Hagans' home he demanded to be allowed inside. Jason opened the door and told Glidden that he could not enter unless he had a court order.
As Jason turned to go back inside, Glidden sprayed him with pepper spray—first at the back of his head and then directly in his face. Glidden also sprayed Laura, who fell to the floor. Glidden then turned to Jason, who was still standing, and shot him in the back with his Taser. As Jason fell, Laura closed the front door. Glidden triggered the Taser three more times through the closed door.
The Huffington Post is reporting on the
loss of history as part of the curriculum in Common Core.

Fukuyama's shift, however, does not seem to have affected the New York State Board of Regents. The governing body regulating education in the state recently voted once again to de-emphasize the study of history in the state curriculum. On Monday October 20, 2014, the Regents, as part of their effort to promote new national Common Core standards and mystically prepare students for non-existing 21st century technological careers, voted unanimously that students did not have to pass both United States and Global History exams in order to graduate from high school and maintained that they were actually raising academic standards.
The Global History exam will also be modified so that students will only be tested on events after 1750, essentially eliminating topics like the early development of civilizations, ancient empires, the rise of universal religions, the Columbian Exchange, and trans-Atlantic Slave Trade from the test. A final vote will be taken in January after a period of public comment, but the change appears to be a forgone conclusion.Merryl Tisch, Chancellor of the State Board of Regents, described the change as an effort to "back-fill opportunities for students with different interests, with different opportunities, with different choice."
Speaking of history- The
British Museum is teaching history via 100 different objects
. Fascinating.
Thanks to Mr. Gruber for verifying everything
I thought about Obamacare in the past was true!