Our Lady Of Guadalupe mosaic at Holy Redeemer Church in Burton, MI
Today is one of my favorite advent feasts!! It is full of mystery and wonder, baffling science and miracles. It is also a feast that places a simple middle-aged man in the middle of a big event, proving once more that God uses his faithful regardless of their age or station in life.

Juan Diego (b 1474) was an Aztec Indian originally named Cuahtlatoatzin, which means, "The one who speaks like an eagle." He married a girl named Malintzin who was later renamed Maria Lucia at her Baptism. Along with their uncle, Juan Bernardino, they were all baptized near Lake Texoco, most likely by Father Toribio in 1525. Juan Diego was 57 at the time of his conversion to Catholicism.
Juan Diego and Maria Lucia were known as a pious and holy couple. Maria Lucia wove the tilma that her husband wore during his visits with the Blessed Mother. So in a way, Maria Lucia was part of the miracle as well, even though she died two years before the apparitions.
San Juan Diego
Juan Diego attended Mass and catechism class at the Church in Tlatelolco regularly. On December 9, 1531, Juan Diego started for church. He had to pass by a hill named Tepeyac to get there. This was an ancient site for goddess worship and human sacrifice. On this particular day, as he passed by the hill, he heard music and then suddenly a beautiful young woman appeared and called him by name. She said:
"Dear little son, I love you. I want you to know who I am.
I am the Virgin Mary, Mother of the one true God, of Him who gives life.
He is Lord and Creator of heaven and of earth.
I desire that there be built a temple at this place where I want to manifest Him, make him known,
give Him to all people through my love, my compassion, my help, and my protection.
I truly am your merciful Mother, your Mother and the Mother of all who dwell in this land, and of all mankind,
of all those who love me, of those who cry to me, and of those who seek and place their trust in me.
Here I shall listen to their weeping and their sorrows.
I shall take them all to my heart, and I shall cure their many sufferings, afflictions, and sorrows.
So run now to Tenochtitlan and tell the Lord Bishop all that you have seen and heard."
Juan Diego went to the palace of the Franciscan Bishop Juan de Zumárraga, but was rebuffed by and told that he would need to bring a miraculous sign before he could comply.
Juan Diego was to meet Virgin Mary again, but his Uncle was very sick and instead he set out to fetch a priest to give him last rites. But Mary did appear to him again and said:
"Listen, put it into your heart, my youngest and dearest son, that the thing that disturbs you, the thing that afflicts you, is nothing. Do not let your countenance, your heart be disturbed. Do not fear this sickness of your uncle or any other sickness, nor anything that is sharp or hurtful. Am I not here, I, who am your Mother? Are you not under my shadow and protection? Am I not the source of your joy? Are you not in the hollow of my mantle, in the crossing of my arms? Do you need anything more? Let nothing else worry you, disturb you. Do not let your uncle's illness worry you, because he will not die now. You may be certain that he is already well."
Go up, my dearest son, to the top of the hill, to where you saw me and received my directions and you will find different kinds of flowers. Cut them, gather them, put them all together, then come down here and bring them before me."

"My youngest and dearest son, these different kinds of flowers are the proof, the sign that you will take to the Bishop. You will tell him from me that he is to see in them my desire, and therefore he is to carry out my wish, my will. And you, who are my messenger, in you I place my absolute trust. I strictly order you not to unfold your tilma or reveal its contents until you are in his presence. You will relate to him everything very carefully: how I sent you to the top of the hill to cut and gather flowers, all you saw and marveled at in order to convince the Governing Priest so that he will then do what lies within his responsibility so that my house of God which I requested will be made, will be built.
"
Juan Diego gathered the flowers into his tilma and presented himself once more to the Bishop. When he opened his tilma, the flowers dropped to the ground, and a beautiful image of the Blessed Mother was left on his tilma.
The Bishop agreed to build the church and the rest is history.
Ari Helminen via Flickr, licensed cc
Juan Diego's tilma is displayed at the cathedral to this day. It was made from course cactus fibers which would have made it very difficult to paint on, yet the image remains on the tilma. Careful inspection has not revealed any brush markings and the surface bearing the image appears almost like silk.
The tilma has also outlasted copies made of similar materials:
Dr. Adolfo Orozco, a researcher and physicist at the National University of Mexico, spoke in 2009 about the remarkable preservation of the tilma compared to its numerous copies. One copy created in 1789 was painted on a similar surface with the best techniques available at the time, then encased in glass and stored next to the tilma. It looked beautiful when painted, but not eight years passed before the hot & humid climate of Mexico caused the copy to be discarded due to faded colors and fraying, broken threads.
It not only ages well, the tilma appears to be indestructible!
Two distinct events have happened involving the tilma over the centuries, one occurring in 1785 and the other in 1921.
In 1785, a worker was cleaning the glass encasement of the image when he accidentally spilled 50% nitric acid solvent onto a large portion of the image itself. The image and the rest of the tilma, which should have been eaten away almost instantly by the spill, reportedly self-restored over the ensuing 30 days, and remains unscathed to this day aside from small stains on the parts not bearing the image.
In 1921, an anti-clerical activist hid a bomb containing 29 sticks of dynamite in a pot of roses and placed it before the image inside the Basilica at Guadalupe. When the bomb exploded, most everything from the marble altar rail & floor just feet away from the blast, to windows 150 meters away were broken…yet the image and the glass surrounding it remained untouched. The only damage that occurred in close proximity to the tilma was a hefty brass crucifix, which was twisted and bent back by the blast.
Please see
Our Lady of Guadalupe- Mother of the Americas for an excellent telling of the history and story of this feast day!
Quilt
hanging in St. Sebastian's Church Akron, OH
Many years ago, my oldest child, Calvin, painted a tilma for us. I think he was around 12 or 13 at the time. It is his own simple design on material I purchased at a fabric store. That tilma served two purposes - we pulled it out to decorate our home on the Feasts of Juan Diego and Our Lady of Guadalupe.
and we also used it for all saints day when my youngest boy was Juan Diego for All Saints Day.
More good reading about Juan Diego
in Diigo links.
Today we will celebrate by having Mexican Taco night for dinner. I have an Our Lady of Guadalupe Candle in the center of our table to day as well as these cute salt and pepper shakers that I found at an antique store. They just reminded me of Juan Diego and Mary!
Those not interested in the usual taco and burritos for dinner might like to try a Mexican Casserole like this one!
A spicy (but not too)Mexican casserole for the feast day:Ingredients
*
1 (10 3/4 ounce) can Campbell's Cream of Chicken Soup* 1 1/3 cups water* 3/4 cup uncooked long-grain white rice* 2 cups frozen peas* 4 boneless skinless chicken breast halves* 1/2 cup shredded cheddar cheese* One package of taco seasoning.* Bag of fritos or Doritos- crushed.
Directions
1.1Stir the soup, water, rice, peas and taco seasoning in a 12" x 8" shallow baking dish.2.2Top with chicken. Season chicken as desired. Cover.3.3Bake at 375 degrees for 45 minute or until done. Top with cheese and crushed Fritos or Dorritos.
Since I have been grain free now two years, I think I'll try this
one for myself!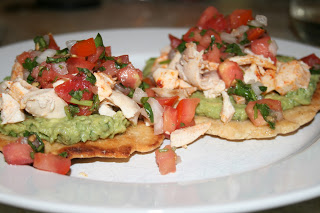 On December 22, 1981, at the Observatory Laplace Mexico City, Father Mario Rojas and Dr. Juan Hernández Illescas, a medical doctor and amateur astronomer, performed an astronomical study of the Image and analyzed the stellar arrangement that appear in the Mantle of Our Lady. They surprisingly discovered that the stars stunningly and accurately map out the various constellations of the Mexican sky. Even more remarkable is the "star map" on the mantle is in the reverse (the cardinal axis rotated 90 degrees counterclockwise): providing a view of the constellations from beyond them, as would be seen looking through them towards the earth. The constellations are consistent with what astronomers believe was in the sky above Mexico City on the day the apparition occurred - in the winter-morning solstice of December 12, 1531, Saturday, at 10:26AM. From the Infallible Catholic Blog
Excellent retelling of the story with other historical facts, a map and more.