O Key of David, and Sceptre of the house of Israel, that openeth and no man shutteth, and shutteth and no man openeth, come to liberate the prisoner from the prison, and them that sit in darkness, and in the shadow of death.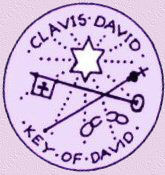 Latin
O Clavis David, et sceptrum domus Israel; qui aperis, et nemo claudit; claudis, et nemo aperit: veni, et educ vinctum de domo carceris, sedentem in tenebris, et umbra mortis.
Come, and deliver him from the chains of prison who sits in darkness and in the shadow of death (Ps 107: 10).
The key is the emblem of authority and power. Christ is the Key of the House of David who opens to us the full meaning of the scriptural prophecies, and reopens for all mankind the gate of Heaven.
Recommended Readings:
The treat for today is one of my favorites Key Lime pie! We have a simple method of making and serving it. We mix low-fat Cool Whip with five or so cartons of Key Lime yogurt! Mix together and pour into a pre-made graham cracker shell! Delicious and low-calorie!
Coloring Page
See my O Antiphons links on Diigo.

-->